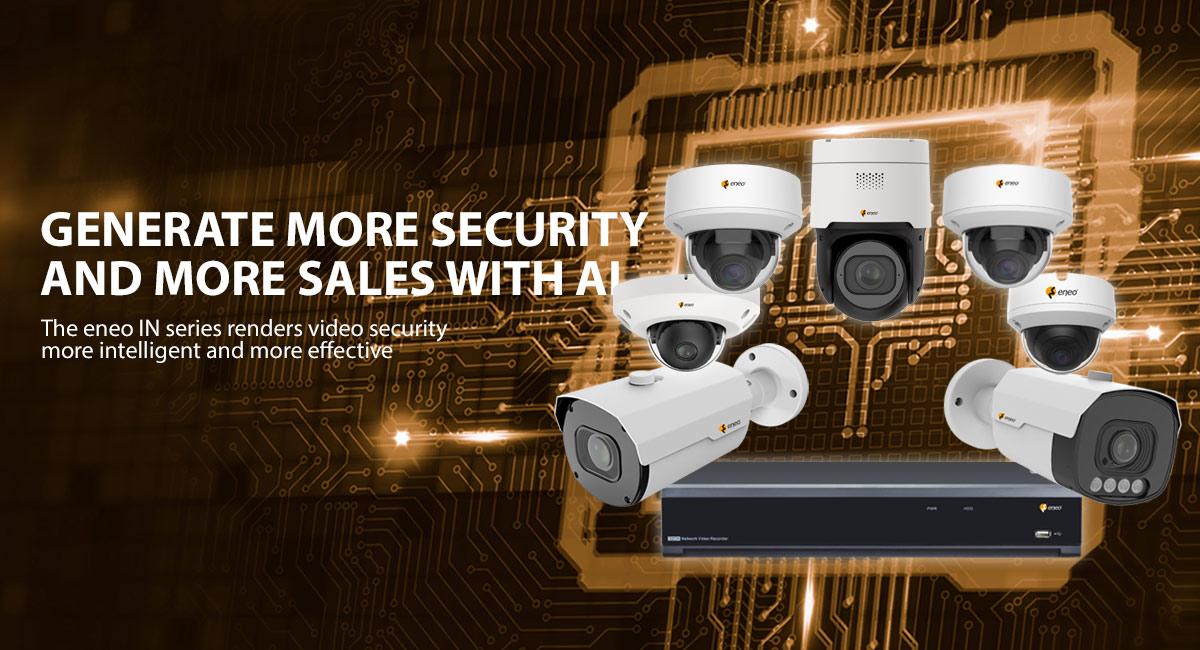 The AI functions of the new eneo IN series proactively ensure security and provide valuable information about customer behavior. Very much to the benefit of companies, employees and customers.
Optimize business processes, relieve employees with AI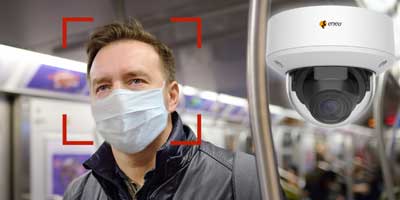 The technological capabilities of eneo's AI-based video cameras and recorders expand the possible uses of video security solutions. For example, through mask recognition and people counting as part of Corona requirements, visualization of preferred walking routes on the sales floor, license plate recognition in customer parking spaces or intelligent queue management. AI-based video surveillance can contribute directly to the optimization of business processes and relieve employees. The possible applications are diverse, while the devices are characterized by their high level of user-friendliness.
Artificial intelligence for proactive security and retail intelligence
AI functions such as intelligent area monitoring, line detection, object and lost object detection, face recognition, person and vehicle recognition and sound detection support security officers in defusing critical situations even before they arise. The mask recognition and crowd density measurement functions support compliance with and enforcement of pandemic protection measures and hygiene concepts. Retailers also benefit from the retail intelligence functions of heat maps, transition counting (cross counting) and intelligent queue management, which enable more effective marketing, an increase in service quality and customer satisfaction and thus more sales. The AI-based number plate recognition can be used for automatic access control as well as for customer statistics. The possible applications of AI-based video analytics are diverse and range from solutions for retail and local public transport to construction site, stadium or event security.
Dome cameras and PTZ cameras with AI-based video analytics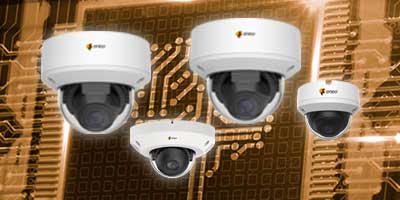 Dome cameras are available in the eneo IN series in various sizes and form factors and with resolutions from Full HD to 8MP. It starts with an AI-based mini flat dome and mini dome each, as well as 5 regular-size dome cameras that are IP67 protected and achieve IK10 shock resistance. These include two Color Night Vision AI domes (IND-65M2812MFA and IND-68M2812MFA), whose extremely light-sensitive image sensors generate color images even in the dark. In addition to the LED infrared lighting, these two cameras also have integrated white light lighting, which can be used to illuminate the surveillance area in the event of an alarm. A wide range of installation accessories such as wall brackets, double housings and surface-mounted boxes is available for professional installation of the dome cameras. A PTZ dome and a very compact mini PTZ dome with alarm light and siren are also available in the new IN product family. The INP-75A0033MIA PTZ camera is equipped with a motorized 33x autofocus zoom lens (focal range of 4.3-142mm) while the mini PTZ camera INP-58M2812M0A is equipped with a motorized varifocal lens (2.8-12mm ) is equipped.
AI bullet cameras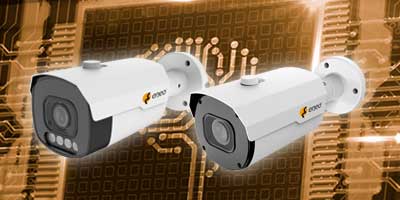 eneo also offers five new bullet cameras with Full HD, 5MP and 4K resolution, motorized varifocal lenses and various accessories for the market launch of the new, AI-based product series, including 2 very light-sensitive cameras (INB-68M2812MFA and INB-65M2812MFA) for 24/7 color images with resolutions of 5 and 8 MP. The image optimization of the Bullet and Dome variants is carried out using Wide Dynamic Range 120dB and 3D-DNR noise reduction. Bidirectional audio support is provided and in the event of network failures, recording can take place on the cameras' micro SD card.
NVRs and hybrid recorders for AI-Solutions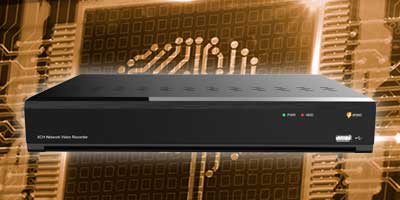 For video recording, the network recorders INR-18N040005A, INR-28N080005A and INR-28N320005A each have a 4-, 8- and 32-channel recording solution that fully supports all AI functions of the IN series. In addition, the MNR-18N04000A and MNR-18N16000A are AI-enabled 4-channel and 16-channel hybrid DVRs that support IP, HD-TVI, AHD and CVBS signals. With the integrated text-2-speech engine of the NVR and hybrid DVR, it is possible to enter announcements and warnings via a text editor, which are output as audio information in the surveillance area of ​​the respective camera. To increase the storage capacity, the network recorders have an eSATA connection, which can be used e.g. B. the eneo HDD box INR-eSATA for a maximum of 4 HDDs with a maximum of 8TB per HDD can be integrated.
Video management with eneo INsight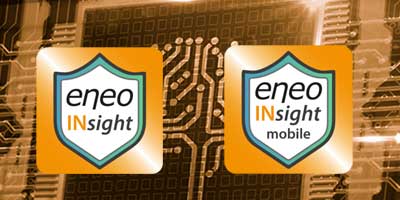 The client version eneo Insight can be used in VMS mode to manage and record many devices from the eneo IN series and in CMS mode to manage a single device from the eneo IN series. All integrated devices of the IN series can be remotely configured with eneo INsight. Users can research AI events with the flexible search function (local, NVR, DVR, SD card), create custom views and favorites, manage AI databases (e.g. license plate recognition) and generate flexible map views with PIP function. The app eneo INsight mobile supports these functions on mobile devices and also the control of zoom and PTZ cameras, the bidirectional audio connection to devices (if available), the manual switching on of white light (if supported by the camera), the operation of output contacts (e.g . opening a door), PUSH notifications of events and local recording of video sequences and still images.