eneo IP Video Security Solution for Berlin CleanCar Branch

32 networked cameras and 2 NVRs by eneo provide security for CleanCar branch on Glienicker Weg
Düsseldorf company CleanCar AG employs 400 workers in Germany and Austria at 32 car wash centres, some of which also have their own fuel pumps. According to a statement from the company, around 3.6 million customers take advantage of high-quality CarCosmetic services each year. To ensure the security of both customers and employees, and to avoid "classic" crimes suffered by service stations and car washes – examples include stealing gas, property damage, theft from the store, illegal trash dumping, faking damage or injury – CleanCar branches are equipped with high-resolution video surveillance systems. MTE GmbH from Viersen is responsible for planning and implementing the video security concept for the branches. This summer, MTE designed and installed a network-based video surveillance system for the new CleanCar branch in the Berlin neighbourhood of Treptow-Köpenick.
IP Video Security for Indoor and Outdoor Areas
A total of 27 networked video cameras in classic aluminium bullet housings monitor both the outdoor cleaning stations and the entry roads to the car wash as well as the car wash itself. All cameras are premium models from the eneo Candid series of type IPB-62M2812M0A whose IP66 conforming housings stand out for their excellent material and finishing quality, and which are absolutely waterproof. They also remain waterproof in continuous operation.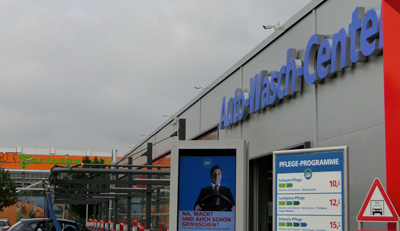 They are each equipped with a motorized 3 megapixel varifocal lens (2.8 to 12 mm focal width) and a 2.3 megapixel Bayer Array CMOS sensor that achieves a maximum resolution of 1920 x 1080 pixels. The lens can be easily adjusted from the control room via a browser-independent web interface using the "push focus" function. It adapts flexibly to the screen format of the display used (desktop, laptop, tablet, smartphone). In addition, it stands out for excellent user-friendliness. The IPB-62M2812M0A cameras have four infrared high power LEDs (850 nm) with an illumination range of approx. 50 m for video surveillance around the clock. Thanks to triple streaming, up to three video streams with different codecs (e.g. 2 x H.264, 1 x MJPEG) can be output at the same time. A lens distortion correction feature (LDC) corrects optical distortions, ensuring accurate contours. Atmospheric interference with the image quality, for instance due to fog, drizzle, or smog, is corrected in real time using the defog feature. Vertical view optimizes portrait format photographs. This function was developed specifically for video security applications primarily focused on a vertical image field, for instance to monitor corridors, stairwells, or streets. The camera is simply turned on its own axis by 90° for this purpose. The function turns the video image back 90 degrees, so that the stream can be displayed in the right orientation. Further camera functions include motion recognition, manipulation protection, and private zone masking (8 areas).
IP recording solutions
Five IP domes from the eneo premium product portfolio are used with IPD-62M2812P0A inside the branch shops. They also offer a maximum resolution of 1920 x 1080 pixels, and provide the same range of features as the bullet cameras used. In contrast to the bullet cameras, however, their housings are made of plastic. Two infrared high power LEDs with an illumination range of approx. 30 m provide the necessary lighting here.
The installers used eneo NVRs from the PNR series for recording and video management. They specifically selected two recorders of type PNR-5316, which each have 16 channels and 3 TB of internal hard drive capacity. The trusted iRAS control software, with which up to 1024 analogue and IP cameras, NVRs, and DVRs can be administered in one system, is already included in the scope of delivery for the recorders. A clearly structured, easy to understand interface and useful comfort functions like time- and event-controlled image search or an editable site plan make the software especially user-friendly. And this was the decisive argument, besides their technical recording performance, in favour of using the eneo PNR-5316 network recorder in conjunction with the control software, Udo Groß-Schnellenkamp, Operational Manager of the MTE GmbH, explains. "Managers of the Berlin CleanCar branches also confirm," says the Operational Manager, "that the PNR and iRAS recording resolution lives up to its promises." The Berlin manager's conclusion is also based on a direct comparison with a competitor's model, which is currently in use in another Berlin branch alongside the eneo network recorders. "In addition, the very good price-performance ratio and the exemplary support were other key factors in our decision for eneo cameras and recorders," adds Udo Groß-Schnellenkamp. All CleanCar AG branches are to be refitted with eneo products over time, with IP or HD-TVI systems being selected depending on the status of the cable infrastructure.