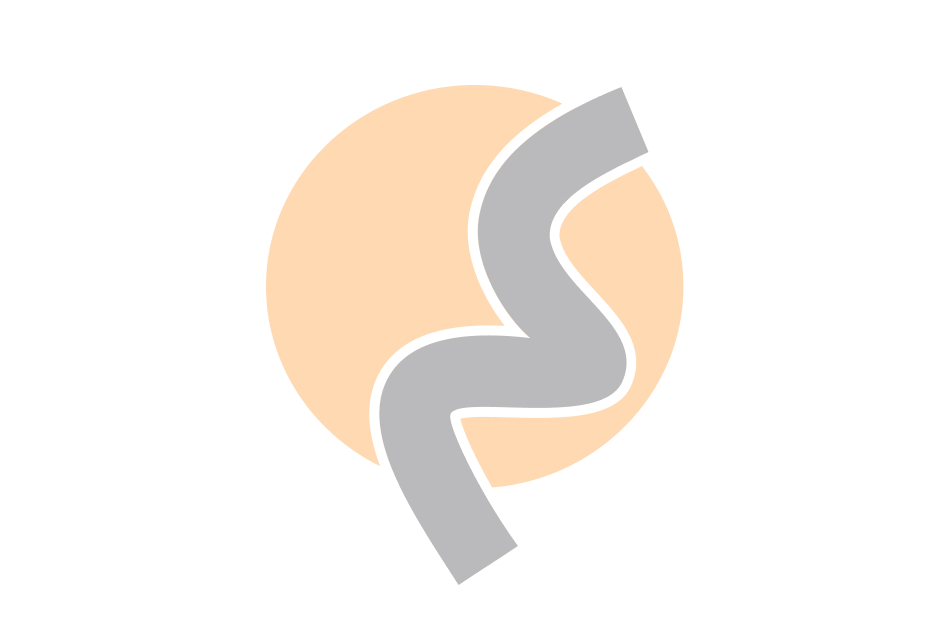 Ethernet & Power Over Coax makes analogue video security systems IP ready
The great advantage here: the analogue coaxial cabling can be used for the data transmission and power supply for IP cameras (Ethernet and Power Over Coax) – never was the transition from analogue to IP more environmentally friendly, easier to install, and more economical!
Innovative and easy to install
EPOC transmission technology makes it possible to convert analogue to IP via plug-and-play.
Here, eneo IP cameras or IP cameras from other manufacturers are simply connected to an EPOC transmitter and connected to the existing analogue cabling.
The transmission of the IP video data and the power supply for the camera take place via the existing coax path. At the other end it is connected to an EPOC transceiver or receiver, which converts the data back to IP and forwards the signal via a network switch to a network and the embedded NVR or PC client. IP data can be transmitted up to a distance of up to 2.4 km, the power supply is possible over a distance of up to 1.2 km. Detailed information can be found in the technical documentation for the products.
Eco-friendly and economical
To date the transition from analogue to digital video security has been disruptive. Eventually, inventory cabling had to be completely replaced with network cables. After an indispensable and time-consuming step, the recycling point was ready. And that was associated with additional acquisition and labour costs. The process now is much more eco-friendly and economical with EPOC. The existing system is not levelled but modernised to save time and money, with a lasting positive effect on the total operating costs.
Scalable and stable

EPOC technology enables easy scaling up so that video security systems can grow along with their tasks. Unlike with IP systems, this does not require additional network hardware. Furthermore, EPOC offers installers switching options which ensure high system reliability.
Ring Switching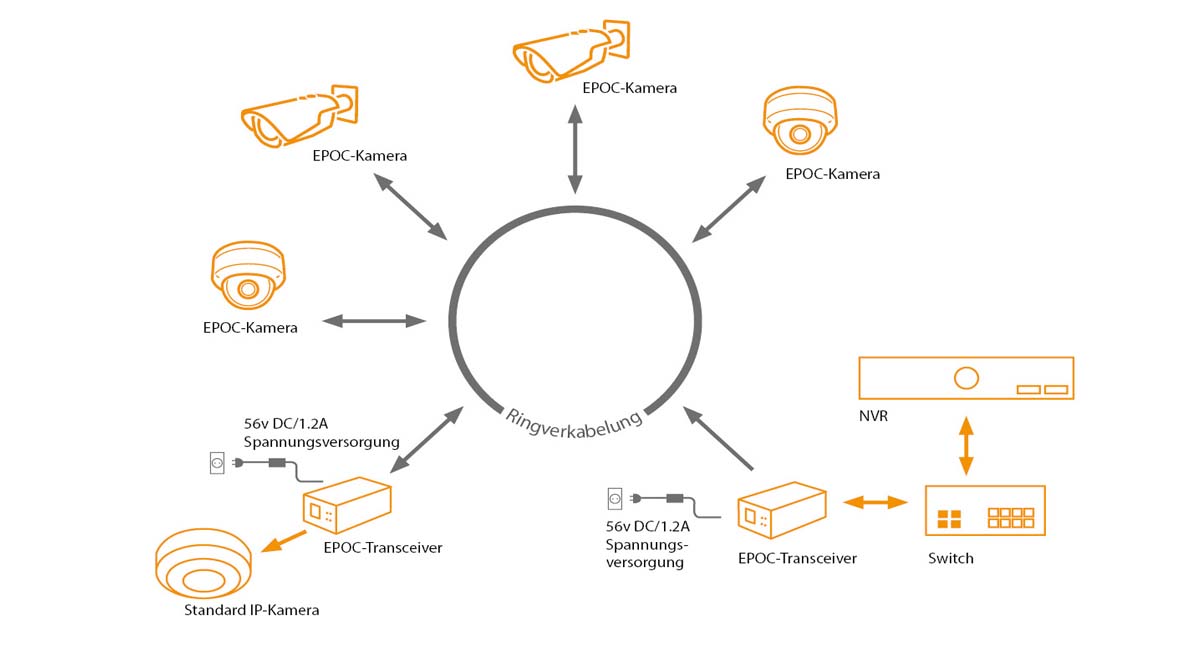 Ethernet and Power Over Coax offers some interesting options to installers for cabling or switching devices. For example, coaxial T connections can be used to connect the IP sources to a ring switch which can be expanded as required and also ensures high reliability. If the coax ring is interrupted at any point, the switching behaves like a daisy chain so that the operation of all the components is still guaranteed.
Daisy Chain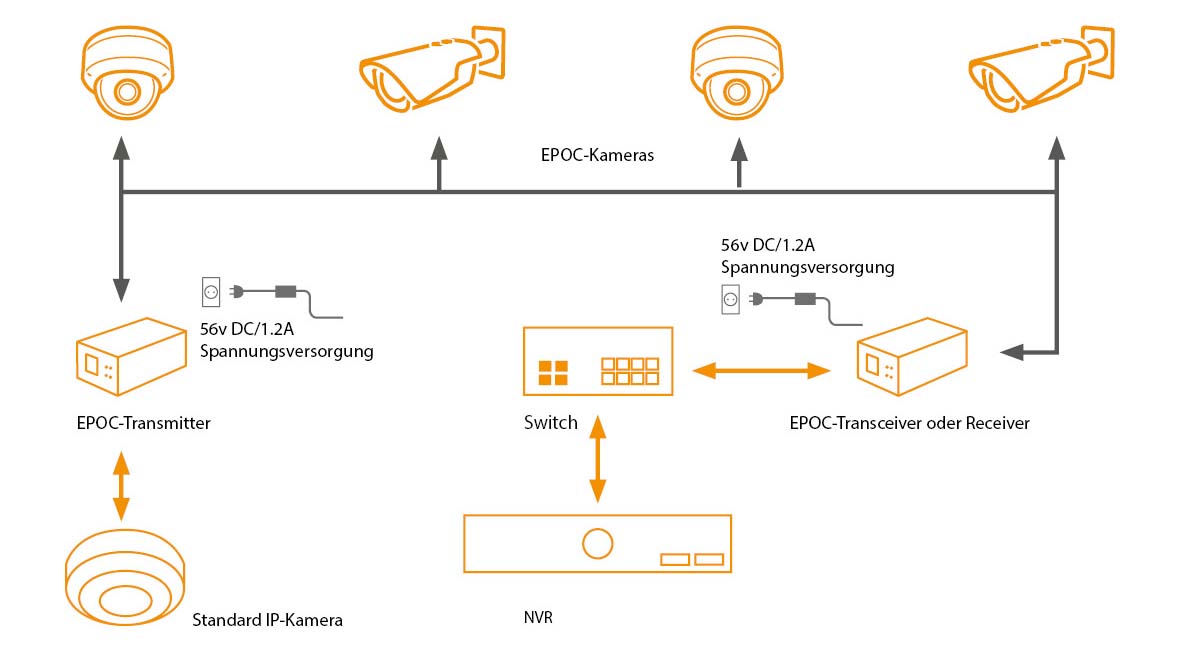 The advantage of a "daisy chain" or series switching lies on the one hand in its simple structure, and on the other hand in the economical use of resources (keyword: port allocation). A single EPOC transceiver can supply power to up to four eneo EPOC cameras in a daisy chain. Here too, upward scaling by further IP cameras is possible. The cameras are integrated into the series switching via one EPOC transmitter each, which is connected to an external power source.
EPOC cameras for non-stop outdoor use
With IEB-72M2812MCA and IED-62M2812MCA, two coax ready eneo IP cameras with an integrated EPOC transmitter are available.
Both models feature a motorised varifocal lens with a P-Iris aperture control and video analysis capabilities. The infrared lighting on board the IP66 classified cameras allows for use around the clock, inside buildings as well as outdoors.
Ethernet and Power Over Coax transmission technology
EPOC transmit and receive modules enable IP data transmission and power supply via coax. All EPOC transmission modules have an LED status indicator and are easy to put into operation.
• The transmitter connects to the IP camera. The device has a BNC and RJ45 input and offers a maximum bandwidth of 95 Mbps.
• The receiver has a BNC and RJ45 input, a maximum bandwidth of 95 Mbps and can be powered via PoE.
• The transceiver can be used as a transmitter as well as a receiver at a bandwidth of 270 Mbps and can supply voltage to up to four IP cameras via coax. The equipment includes an overvoltage protection.
• Two-wire transmission is possible with transducers (BNC to 2-pin terminal block).